Hello everyone! I'm currently in Las Vegas, living it up automotive convention style, but I have a lovely post here from Ashley at Two Eyes in the Mirror. Her graphics and photography make me feel vaguely ashamed, but mostly, I just want to eat these scones until I explode.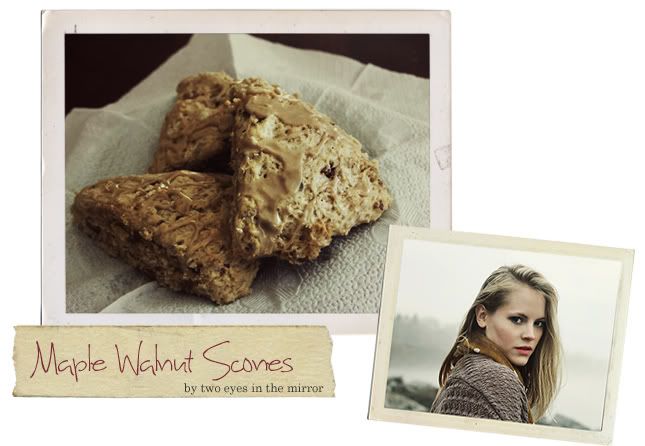 Although I don't post recipes on my blog, I do like to bake. Up until the past year, scones intimidated me (you ever notice how most scone recipes don't call for enough flour? You ever notice how ABSOLUTELY FRUSTRATING that is for a beginner scone-maker?), but they're really easy once you get the hang of it. These days, I have a basic scone recipe memorized, and I just change up the add-ins. I came up with these maple and walnut ones a few days ago. Although maple is more of an autumn taste, these are so good I don't have any problem eating them in the middle of spring. And neither will you, because they're delicious.
Scones:
2 cups flour
1/3 cup sugar
1 1/4 tsp baking powder
1/8 tsp salt
1 stick of butter
1 1/2 tsp maple flavoring
1 egg
1/2 cup half & half
1/2 cup walnuts
Glaze:
7 Tbs confectioner's sugar
1 Tbs half & half
1/4 tsp maple flavoring
Makes 8 medium-size scones.
Preheat oven to 365°F. Spread the walnuts on a baking sheet and place them in the oven (it's okay if your oven isn't totally heated yet). Toast for five minutes, take out and flip with a spatula, and toast for another five minutes or so.
In the meantime, mix the flour, sugar, baking powder, and salt together in a large bowl. Cut in the butter with a fork or pastry blender until mixture is crumbly and no big butter chunks remain.
In a separate glass or bowl, mix the egg, half & half, and maple flavoring together.
Add to dry mixture until everything is moist. Add the walnuts and stir until just mixed.
Your dough should be thick. Take the whole thing and plop it in the middle of an ungreased cookie sheet. Press with your hands and shape into a somewhat large circle.
Cut the circle into wedges with a knife. Put in oven and bake for 25-30 minutes.
Allow to cool for ten minutes. While cooling, mix up frosting. Drizzle over scones and let set a few more minutes. Pull apart scones from circle and enjoy!